This site uses cookies. By continuing to use this site, you are agreeing to our use of cookies.

Learn More.
Kei Kars In The Park
has a popular annual event in the UK, and a number of Copenworld members usually attend.
This year's event is at the Heritage Motor Museum in Gaydon on September 27.
KKITP has grown year on year for the past 8 years. We have outgrown our patch at the water park.
So in 2015 we will join other classic car & modern car clubs, displaying our pride & joys.
There is no entry fee, giving access to the grounds, cafe & toilets. Those displaying will get a discount voucher for entry into the museum.
Pencil in the date in your new diaries!​
Did you know.....?
It's now easier to upload photos to Copenworld and share them in your forum messages.
On a desktop computer, you can simply drag and drop a photo into any message you are posting.
On a mobile, you can use the "Upload a File" button below your message. On most modern smart phones, this will allow you to either select a photo stored on your phone or take a new photo with your phone's camera.
Photos will be automatically resized to fit in your message.
Once your photo has uploaded, you'll see it attached below your message with options to choose either "Thumbnail" or "Full Image". If you choose Thumbnail, it will be attached to your message. If you choose Full Image, it will be embedded in the message. You can then drag it around to get it into the desired position within your text.
If you want to try it out, you can use our new "Test Messages" forum (at the very bottom of the list of forums).​
Did you know.....?
​
If you want to grab another Copenworlder's attention, you can "mention" them in a message. Simply use the @ symbol followed by their user name (with no space in between), e.g.
@copenworld
would shout out to me. As you start to type their user name, a pop-up box will list any matching names to make it easier to find the right person, and you can choose from the list.
You'll get an alert when you're mentioned by anyone, unless you switch this option off in your user preferences.​
Did you know.....?
You can now "like" forum messages, similar to Facebook.
Just hit the "like" button in the bottom corner of a message.
You will receive an alert when someone likes one of your messages, unless you switch this option off in your user preferences.​
Did you know.....?
​
The new Copenworld website has been built to be accessible on mobile devices as well as on desktop computers.

The website has a "responsive" design, which means that it adjusts automatically to the size of your screen.

You should be able to use the forums with most modern devices, including smartphones and tablets.​
​
The new website is now live.
Everything has been rebuilt from the ground up, so some things will look and behave differently to the old website. Although the styling has been updated, I've deliberately tried to keep a similar content layout to keep things relatively familiar, at least initially.
All user accounts and forum content have been transferred across, so you should be able to log in with your existing username and password. If you have any difficulties logging in, you can reset your password by clicking on the "Lost your password?" link on the login screen.
Member avatars are higher resolution on the new website, so if you have one already set up it may look grainy. You can upload a new picture in your user settings - hover over your username in the top right-hand corner of the screen to see the user drop-down settings menu, and select "Avatar" from the list.
The old Directory and Features pages have been replaced with the Resources page. There is limited content on this page at the moment, but I'll be adding to it over the coming weeks.
The new platform also opens up a number of possibilities for improving the website, so I'm hoping to continue developing it in future.
Please feel free to use the new "
Test Messages
" forum if you want to try things out.
I hope you enjoy using the new website. There are bound to be some problems to iron out - please reply to this message if you spot any issues or if you have any feedback. If you can't log in or post, you can email me using the "Contact Us" link at the bottom of every page.
David @ Copenworld
Join other Copen owners at this very popular annual European meeting, in the Lower Rhine region, the most western part of Germany close to the border of the Netherlands.
Take a look at last year's impressive meet
here
to get an idea of what to expect.
​
Contact Scooty to let him know you'll be there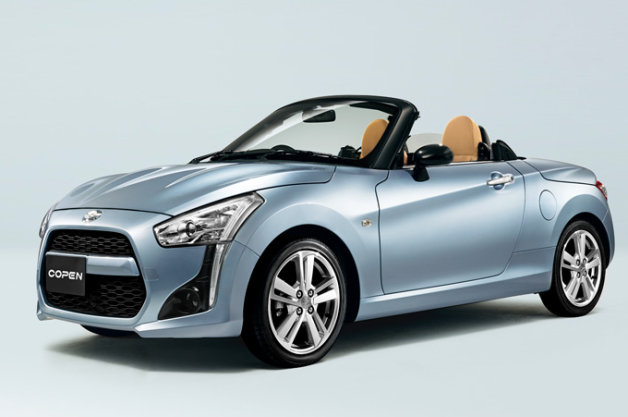 The new model Copen has been formally launched by Daihatsu in Japan.
Daihatsu has stuck with the Copen name rather than the "Kopen" name it used with the concept models. The first model is known as the Copen "Robe", with a sportier model currently code-named Copen X to be released later.
It has a more angular and perhaps less "cute" look than the original model.
The new Copen has a 660cc turbo-charged three-cylinder engine, so it still classes as a
Kei car
.
Many of the body panels are interchangeable, which should allow for some interesting customisations. Parts that are fully customisable include the bonnet, boot lid, front and rear bumpers, all four wings, the rocker panels and the fuel lid. Some interior components are also customisable.
It comes with a push button start, leather steering wheel and gear knob, heated seats, keyless entry, air conditioning, heated windscreen and carbon fibre trim, plus an optional "infotainment" system placed on top of the central dashboard.
Available colours are Liquid Silver Metallic, Pearl White III, Bright Silver Metallic, Black Mica Metallic, Matador Red Pearl, Toniko Orange Metallic, Jaune Yellow, and Clear Blue Crystal Metallic
Prices in Japan start at a very reasonable 1,798,200 yen (around £10,350 or €12,950) for the basic model or 1,819,800 yen (around £10,480 or €13,110) for the five-speed model.
You can view the launch video
here
, and the Japanese website can be found
here
.
There appear to be no plans currently to sell the new model outside Japan, so buyers elsewhere will need to arrange an import if they want to buy it.
A member shares the joys and tears of pimping his Copen "ScootyPuff".
Key quote: "New steering wheel came from imparts! Drove around the living room making vroom vroom sounds."
A buyer's guide for the Copen, with some useful pointers on what to look for when shopping for a used car.
This guide is for the 659cc Copen, but some points are applicable for the 1.3 engine.